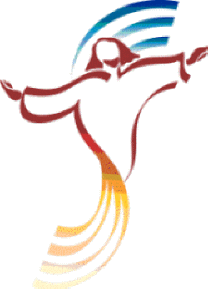 Week of July 4th, 2021
Come and See!
The Word…
"To you I lift up my eyes who are enthroned in heaven —
As the eyes of servants are on the hands of their masters.
As the eyes of a maid are on the hands of her mistress,
So are our eyes on the LORD, our God, till he have pity on us.
Have pity on us, O LORD, have pity on us,
for we are more than sated with contempt;
our souls are more than sated with the mockery of the arrogant,
with the contempt of the proud."

(from Psalm 123)
---
Pondering the Word …
"For we are more than sated with the contempt of the proud."
Gosh, it's so important to read Scripture, not for its historical significance or accuracy, but for its incredible understanding of the realities of being human and its spot-on applicability to today's world.
There's lots of arrogance, mockery, and pride being flung around these days by those in power (and their minions) in all types of institutions, governments, and religions. Readers of these musings of mine come from many different countries and my perspective might be colored by the situation in the US, but everyone seems so much meaner these days, so disrespectful. It seems the world has become one big sandbox (allusion to climate change intended!) and we are all a bunch of toddlers vying to get our way.
I can either lament that as a species, we've not improved that much…or, I can, as Psalm 105 says, revel in God's holy name, giving thanks for God's unending patience with us.
Continue to have pity on us, O LORD, have pity on us!
---
Living the Word …
The Hebrew translation presents another version: "Grant us grace, O LORD, grant us grace." These words say something different to me. They are empowering, telling us we not victims of abuse by one another in need of God's pity, but that, with God's grace, we just might be able to change some things.
Let's pray together this week that God will grant us the grace to put aside pride and arrogance. To be more charitable and respectful of those with whom we disagree. That doesn't mean we give up the fight against the contempt that is so prevalent, but that we do so without returning that contempt. Look for opportunities to be respectful rather than prideful, to give words of encouragement rather than mockery.
Frankly, this is a big challenge for me, but with God's grace… I just might be able to change some things!
---
Mon, Jul 5: A woman suffering hemorrhages came up behind him and touched the tassel on his cloak. (Mt 9:18-26)
In the Jewish tradition, the tassels on one's cloak were a sign of piety and a reminder to keep God's commandments. This little detail in Matthew's Gospel would have been noticed by his Jewish-Christian audience, a sign that Jesus did not come to abolish the law and the prophets, but to fulfill them by his healing presence.
Today's reflection: Quietly ask Jesus to heal whatever needs healing in you. Imagine him saying to you, "Your faith has saved you."
Provision: Create a little symbol for yourself, a daily reminder to keep the commandment to love—a tassel on your keychain, perhaps? (But it doesn't need to be Paul's "thorn in the flesh!")
Tue, Jul 6: Jacob was left there alone. Then some man wrestled with him until the break of dawn. (Gn 32:23-33)
This story is rich in meaning and metaphor. The scene occurs the night before Jacob is to meet up again with his brother, Esau, from whom he stole his birthright. Jacob has taken all sorts of precautions and is anxious that Esau will exact revenge. Scholars suggest this is a story about Jacob's "dark night" experience, wrestling with himself and the deceptions he has perpetrated in his life.
Today's reflection: Wrestling with the darkness in one's life can be quite intimidating; in fact, like Jacob, it might leave you with a "limp." But it is an essential activity that allows the dawn to break, the light to enter and heal your soul. Seek professional help if your darkness is profound.
Provision: Lighten someone's darkness today with a smile, a kind word, a visit, a shoulder to cry on.
Wed, Jul 7: The LORD brings to naught the plans of nations; he foils the designs of peoples. But the plan of the LORD stands forever; the design of his heart, through all generations. (Ps 33)
"That God had a plan, I do not doubt. But what if His plan was, that we would do better?" ("Watching a Documentary about Polar Bear Trying to Survive on the Melting Ice Floes," from Red Bird, Poems by Mary Oliver, 2008, p. 45).
Today's reflection: Do you believe you are a co-creator with God? That you are called not to abuse, but to protect our earth? These are vital questions, the answers to which will determine our collective future.
Provision: Decide on one thing you can "do better" for our world today and commit to making it a habit.
Thu, Jul 8: "Whatever town or village you enter, look for a worthy person in it, and stay there until you leave. As you enter a house, wish it peace." (Mt 10:7-15)
The literal translation reads "carefully ascertain who within it is a worthy man." Jesus wants the disciples to really pay attention so they don't waste time with those who do not welcome them. Perhaps he is telling them to choose carefully so they don't get discouraged! But the image I love is that of wishing peace on a house when you enter it. I know social workers who visit the homes of people whose family members have been murdered. They are not there to preach, but to comfort, to aid in healing, and to offer peace just as the disciples of old were called to do.
Today's reflection: Think about a friend or a neighbor whose house could use a little peace right now. Offer a prayer that peace will come upon them.
Provision: Think about developing this little habit: whenever you enter a building—a home, a store, a library, a church, wish it peace. How lovely is that!
Fri, Jul 9: "Trust in the LORD and do good. Dwell in the land and keep faith. Take pleasure in the LORD that He grant you your heart's desire…For the LORD loves justice…" (Ps 37, Hebrew translation)
Like Sunday's psalm, the Hebrew translation of today's psalm has nuances I find enlightening and empowering. Do good, not just so "that you may dwell in the land and be fed" as some sort of reward, but because it is what we are supposed to do! Use the gifts God has given us. Of course, "the LORD loves what is right," but more specifically, "the LORD loves justice"
Today's reflection: Reflect on the word justice. What does it mean to you? Is there any hint of vengeance? Is it possible to do what is right, but ignore justice?
Provision: Use what God has given you to do good today!
Sat, Jul 10: "…Revel in His holy name… seek his presence always." (Ps 105, Hebrew translation)
Well, we are on a roll with the psalm translations! We hear in the Vulgate (Latin) translation, "seek to serve Him constantly." That's a fine goal as well, so long as we have first sought God out in the people and the places present to us. If we seek God's presence first, it will help us to understand how God wants us to serve.
Today's Reflection: Do an examine tonight. When and where did I seek God's presence today and how did I respond in service to God?
Provision: Be present wherever you are today. It's far easier to seek God's presence that way!

---
We hope you enjoy "Come and See!" and we welcome your input. Please contact Elaine Ireland at
ehireland@loyola.edu
with questions, comments, and responses.
---
To receive "Come and See!" via email, send request to ehireland@loyola.edu.
© 2021, Elaine H. Ireland.
---
Up to 6 weeks of "Come and See!" reflections are saved here.
The latest is always listed first.