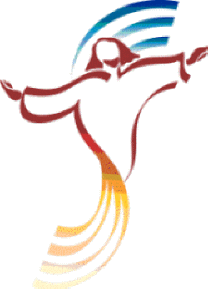 Come and See!
Brief reflections on the week's Scripture readings
Week of May 30th, 2021 - Trinity Sunday
---
The Word
The eleven disciples went to Galilee,
to the mountain to which Jesus had ordered them.
When they all saw him, they worshiped, but they doubted.
Then Jesus approached and said to them,
"All power in heaven and on earth has been given to me.
Go, therefore, and make disciples of all nations,
baptizing them in the name of the Father,
and of the Son, and of the Holy Spirit,
teaching them to observe all that I have commanded you.
And behold, I am with you always, until the end of the age."
(Mt 28:16-20)
---
Pondering the Word …
"And see: I am with you every day until the consummation of the age."
As you read through Scripture this week, you'll notice several references to God's presence, a living God who is in our midst.
The realities of the world—death, hatred, racism, poverty, war, and violence – these things can lead us to doubt God's presence. It's difficult to see God in the headlines. We hear the disciples had their doubts, even with all they had experienced of Christ, both before and after his death and resurrection. It is understandable that we may doubt at times, too.
I believe that doubt, both for the early disciples and for us, has some basis in what we expect God's presence to look like. His closest friends still imagine him to be the great conquering Messiah to drive out the Romans: "Wait a minute! Where are you going? What's this about us having to make disciples?" In Acts, we hear that they stare up into the sky, confused about what is going on. Even in the epistles, the assumption of the authors is that Christ's return to earth was imminent.
It is in the last line he utters in today's gospel that Jesus presents the challenge to the eleven disciples and to us: "Behold! See! Look! I am with you always."

---
Living the Word…
I am reading a wonderful, uplifting book called, Ladder to the Light, by Steven Charleston, a favorite author of mine, an Episcopal bishop and indigenous elder. He puts forth a challenge: "Sometimes, in this troubled world of ours, we forget love is all around us. We imagine the worst of other people and withdraw into our own shells. But try this simple test: Stand still in any crowded place and watch the people around you. Within a very short time, you will begin to see love, and you will see it over and over and over…We are surrounded by love." (p. 67, 2021, Broadleaf Books)
"God is love." (1 Jn 4:16) "Behold! See! Look!" Take time this week to look for love.
---
Mon, May 31: "…love one another with mutual affection; anticipate one another in showing honor." (Rom 12:9-16)
If you are looking for a checklist about how to be a Christian, you can't go wrong with today's passage from Romans. I particularly like the idea of "anticipating," giving preference of honor to one another. Last week, we talked about the "Ignatian Plus Sign," starting out with the assumption of the other's good intention.
For reflection: What help do you need from the Spirit to better "anticipate" others?
Today's provision: Practice the test we talked about yesterday. Look for love today; anticipate the best from people.
Tues, Jun 1: I called to my wife: "Where did this goat come from?" … "It was given to me as a bonus over and above my wages." Yet I would not believe her…(and) became very angry with her over this. (Tb 2:9-14)
The Book of Tobit is not in the Hebrew Bible and is in the Apocrypha of Protestant Bibles. It is considered a work of fiction—and a dramatic one at that -- but has good lessons about keeping faith in the face of hardship. The passage I chose for today shows how hardship can easily lead to bitterness and estrangement, even with those closest to us; both Tobit and his wife fall prey to bitterness.
For reflection: Are you estranged from anyone – or from God – due to bitterness about misfortune in your life? Do you find it hard to be supportive and loving to a person who is bitter?

Today's provision: Pray the Spirit will make you aware of any bitterness you harbor. Pay attention to how bitterness manifests itself in your relationships. Ask for the Spirit's help to soften your heart.
Wed, Jun 2: "'I am the God of Abraham, of Isaac, of Jacob' He is not God of the dead but of the living." (Mk 12:18-27)
Present tense. Jesus is not saying that once our mortal life ends, God is not there for us. He is saying that though we die, we are alive in God, just as God is alive in us. Such comforting words!
For reflection: If you are grieving a loss—the loss of a loved one, the loss of hope, the loss of courage to face hardship – pray with this verse. Repeat it over and over like a mantra until you can repeat it in the silence in your heart.
Today's provision: Remember our test from Sunday: look for God alive in your life and in the lives of others.
Thu, Jun 3: One of the scribes asked Jesus, "Which is the first of all the commandments?" (Mk 12:28-34)
The scribes are the lawyers of the time, the guys who are supposed to answer all the nit-picky, detailed questions about the 613 commandments in the Torah. This scribe may be testing Jesus, but not with the same ill intent as the Sadducees from yesterday's gospel. I think he truly wants to know what makes Jesus tick, and is rewarded by Jesus' affirmation of his own understanding. "We are closer to God when we are asking questions than when we think we have the answers." (Abraham Joshua Heschel)
For reflection/today's provision: You know all those questions you are going to ask of God if you have the chance? You have the chance. Ask them now.
Fri, Jun 4: "David himself calls (the Christ) 'lord'; so how is he his son?" (Mk 12:35-37)
This is a passage I typically skip over. It's kind of confusing. The theological and exegetical explanations vary a bit, but I really like the idea that Jesus is challenging ordinary people to think more deeply about their beliefs. How can David call his son, "Lord?" Well, the answer is easy if you think about how Jesus describes himself: coming, not to be served, but to serve. David, Jesus, and all of us are servants, serving the one true God: Love.
For reflection: Are there beliefs you hold that Jesus is challenging you to think about more deeply?
Today's provision: If the answer to your reflection today is yes, seek counsel, first from the Spirit, and then from trusted and reliable sources. Then go back to the Spirit. Always go back to the Spirit who is the true guide. Remember yesterday's quote: Keep asking the questions. Keep your heart and mind open to learn and grow.
Sat, Jun 5: "For they have all contributed from their surplus wealth but she, from her poverty, has contributed all she had, her whole livelihood." (Mk 12:38-44)
This story talks about material wealth and poverty, but its lesson goes far beyond the idea of dollars and cents.
For reflection: What is your poverty? Where are you poor? Sacrifice isn't sacrifice if it doesn't "hurt" in some way. Perhaps your poverty is lack of faith in God's providence which leads to the need for control. Surrendering your will can hurt. Perhaps your time is what you value most. Giving up time to serve others rather than doing what you might prefer—this may be where Jesus is challenging you.
Today's provision is to pray and reflect on this passage some more! We don't like to consider our "poverty" or what stands in the way of giving ourselves over to God's will. Think about the rich young man: his poverty is in his riches, so that's what Jesus hones in on. What would Jesus hone in on for you?

---
We hope you enjoy "Come and See!" and we welcome your input. Please contact Elaine Ireland at
ehireland@loyola.edu
with questions, comments, and responses.
---
© 2009 - 2020, Elaine H. Ireland - Images@FaithClipart.com
---
Up to 6 weeks of "Come and See!" reflections are saved here.
The latest is always listed first.