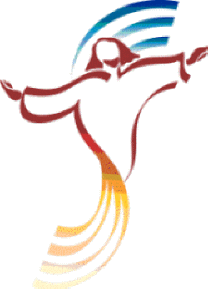 Provisions for the
Journey to Jerusalem
Brief reflections on the week's Scripture readings
Second Week of Lent, 2021
---
Sunday, February 28 "Brothers and sisters: If God is for us, who can be against us?" (Rom 8:31b-34)
Here's an early Christian example of the age-old "us/them" problem. Who are the "us" Paul is talking to? In the verse before this one, he says: "And those he marked out in advance, these he then called; those he called, these he then proved righteous; and those he proved righteous, these he then glorified." So we go from the Jews being the chosen people to the Christians (both Jews and Gentiles) as chosen. I wonder what God thinks about this us/them dynamic. I wonder if God's plan is that we evolve to a place when we recognize that all are chosen, that there is no us and them but everyone together as one. We are all made in God's image. We are all chosen. We are all "us."
Today's Provision: Allow your Spirit to grow: As we track Biblical stories, we can see God's hand in humanity's spiritual evolution from a time when sacrificing children to the gods was practiced (as in today's story in Genesis of Abraham and Isaac) through "an eye for an eye" through God's merciful treatment of the Ninevites to Jesus' message of loving your enemies and doing good to those who persecute you; to the Gentiles being co-heirs to the kingdom: the evolution from a violent, tribal world to "the kingdom of Israel," based on the Law, to "the Kingdom of God," based in Love. To be chosen is not just a privilege; it's a responsibility we have to grow and change and make real a world where all know they are chosen. Pray today that the Spirit will enlighten you so that you can recognize your "growing edges."
Monday, March 1: "We have not obeyed your servants the prophets, who spoke in your name to our kings, our princes, our fathers, and all the people of the land." (Dn 9:4b-10)
Why don't we listen to prophets? Sometimes, I think we are just like all the people making merry before the flood. Scientists predicted the pandemic and that we were woefully unprepared. Thousands of experts warn us daily about an increase in violent weather, droughts, and famines due to climate change, and yet we blithely go along with our lives as if nothing is amiss, then are stunned when drastic weather events occur. I'm not pointing fingers here. I am as guilty as the next person. Perhaps we fail to recognize or don't want to admit -- particularly in the case of the climate crisis – that it is indeed our sinful behavior that is the cause of some of our misery. Perhaps we are so focused on what we want right now that we ignore the impacts that decisions we make today will have on our lives tomorrow.
Today's Provision: Pay attention and listen: We hear a lot about the spiritual importance of living in the present moment. The emphasis in that statement needs to be on the word "living." Living in the present moment means paying attention to what is going on around and inside us. It is not about being anxious. We don't want to live in a state of high alert. But it does mean we are keenly aware of God' presence in our midst and what we are called to do to make that presence known by the way we act and the things we say and do. Try to pay attention to yourself and your world today. What can you do to listen and act upon the words of the prophets in your life?
Tuesday, March 2: "Make justice your aim: redress the wronged, hear the orphan's plea, defend the widow…If you are willing, and obey, you shall eat the good things of the land; But if you refuse and resist, the sword shall consume you: for the mouth of the LORD has spoken!" (Is 1:10, 16-20)
Note: there is no caveat here that says "but, of course, only widows and orphans from these particularly countries or who can bring some 'economic value' to the existing population." I'm thinking of everyone who has lost a mother or father or a spouse or child to violence, to the pandemic. I think of the children on the border, who orphaned or not, have been sent in search of something safer and better. I realize the situation with refugees, asylees, and undocumented people is complicated (and oh, BTW, only going to get more so by things like the famines and droughts we talked about yesterday), but if we make justice our aim and if we keep compassion in our hearts, we can come together to reconcile our differences and reach out to welcome those in need.
Today's Provision: Set things right with God. God invites us in this reading: "Come now, let us set things right." God is not talking to individuals here. God is talking to the entire people of Israel and to their leaders. Of course, we need to set things right with God in our own lives, but part of that is recognizing the role each of us plays in societal sin. Spend some time in prayer today asking God to show you areas in your life where you tacitly or unknowingly support an unhealthy status quo. One way common for all of us is through our silence. When we fail to raise our voices against injustice or for compassion, when we shrug our shoulders and say there's nothing we can do, we are complicit. Is there a social injustice issue that speaks to you? Investigate ways you can raise your voice in support of justice.
Wednesday, March 3: "Whoever wishes to be great among you shall be your servant; whoever wishes to be first among you shall be your slave." (Mt 20:17-28)
You can imagine the more eager disciples, like "the sons of thunder," James and John, hearing this and then vying with each other to see which one could be the most humble -- who could be the best at being the lowest! I know people who seem to take this directive from Jesus to the extreme. They give, give, give, always striving to be the servant but are not open to receiving from others. Most people who do this are good-hearted and looking to serve as Christ served. But sometimes, it can be a way of maintaining control. Jesus didn't set this up as a competition nor did he intend for us to reject the loving care of others. In fact, allowing another to care for us enables them to experience the joy of serving another and can be a humbling, grace-filled experience for us as well.
Today's Provision: Be open to receiving. There's a song called "The Servant Song," by Richard Gillard. The first verse is appropriate for our reflection today: "Will you let me be your servant, let me be as Christ to you? Pray that I may have the grace to let you be my servant, too." Are you one who prefers giving to the exclusion of receiving? Can you see that by allowing others to care for you, you give them the chance to follow Jesus' example? See if you can open yourself up to the grace of humility and allow someone else to do good unto you.
Thursday, March 4: "Cursed is the man who trusts in human beings, who seeks his strength in flesh, whose heart turns away from the LORD." (Jer 17:5-10)
Our theme this year of metanoia implies the notion of turning; in this case, turning our hearts back to God. It's important to look at this verse in its totality. It's not that we are cursed if we trust in other humans. God intends for us to live in community so we have to trust each other. It's that we suffer if we place our trust solely in other people or in worldly things. If we turn back and find our strength in God, then we can allow ourselves to be vulnerable and to trust others, knowing that God is our constant hope and help.
Today's Provision: Seek strength in God. Are you struggling with a betrayal of trust or with someone or something that has let you down? It might be a minor slight or it could be something major. Turn to God and ask him to give you the strength and the knowledge to trust in God before all else. If we are confident in our relationship with God, we can more easily accept the failings of others…and our own failings as well.
Friday, March 5: "He sent a man before them, Joseph, sold as a slave…bound with chains…" (Ps 105)
We read in the Genesis story of Joseph about the evils of jealousy and envy, and we also see how good can come of evil if we are patient and allow God's hand to bring about salvation. Joseph, the victim of his brothers' treachery, is the one who sees how God takes his suffering and brings about good. Is there suffering in your life? Are the ever-present evils and sorrows of the world causing you to despair? Can you see past the sorrow to salvation?
Today's Provision: Look for the good. Look back over your life and see if you recognize good that has come from situations of sorrow or betrayal. If this is hard for you, reflect on how you might still bring about something positive from a past hurt or wrong. I'm not talking here about platitudes regarding accepting the will of God. I mean real growth from the darkness. Pray the Spirit will guide you to begin the process of mining for the precious gifts buried in the hardened rock of life.
Saturday, March 6: "'He became angry, and when he refused to enter the house, his father came out and pleaded with him. He said to his father in reply, 'Look, all these years I served you and not once did I disobey your orders;
yet you never gave me even a young goat to feast on with my friends.'" (Lk 15:1-3, 11-32)
What do you have to be bitter about? I'm not asking that as a condemnation or criticism. Really, what do you have to be bitter about? Most of us can identify something. In the midst of this pandemic, people have been denied some basic things we take for granted: celebrating weddings and graduations, mourning together the death of a loved one. Becoming bitter can happen as we age. We see things changing, our bodies changing, and we feel left behind. In some cases, people are actually left behind to live out their lives alone. Some have worked hard and don't think they have much to show for it. Others may have dedicated their lives to God and see little if any change in the world. Youth can become bitter as well as opportunities for meaningful work seem beyond their reach.
Many of us can identify with the bitterness felt by the older brother in the story of the prodigal son, but look what his bitterness does. He cannot celebrate the gift of his father's mercy and he is left alone with only his bitterness to keep him company. Is this what we want for ourselves?
Today's provision: Let God's mercy change your heart. It's hard to watch someone who we think has taken advantage of someone else or the "system" come out ahead. Unfortunately, we see too many people who do this insincerely, without true remorse in their hearts. It's easy to become jaded and skeptical. I like to think the younger son in this story is sincere, but I don't think that matters to the message Jesus is trying to get across--the depth and breadth of the Father's great mercy for sinners. Remember, Jesus tells us to forgive each other "seventy times seven!" (Mt 18:22) and that we are to "be merciful as your Father is merciful." (Lk 6:36) We meet God most fully in the realm of mercy, even when that mercy to shown to someone else. Allow God's mercy to soften and change a bitter heart.
---
We hope you enjoy "Come and See!" and we welcome your input. Please contact Elaine Ireland at
ehireland@loyola.edu
with questions, comments, and responses.
---
© 2009 - 2020, Elaine H. Ireland - Images@FaithClipart.com
---
Up to 6 weeks of "Come and See!" reflections are saved here.
The latest is always listed first.