Contents: Volume 2 - Second Sunday of Easter April 8 2018 Divine Mercy Sunday
---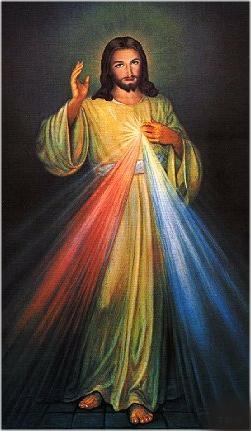 1. -- Lanie LeBlanc OP
2. -- Carol & Dennis Keller
3. -- Brian Gleeson CP
4. -- Paul O'Reilly SJ
5. -- (Your reflection can be here!)
*****************************************************
*****************************************************
Easter 2 B
The readings during the Easter Season tell us of the early community of believers and how their faith grew, grew to be strong enough to pass down even to our generation. Today's Gospel reading from John relates the impact on the apostles of actually seeing Jesus after the Resurrection for the very first time. The fear that the apostles had needed to be overcome by courage, courage enough to witness strongly about what they saw, as we will read in future weeks.
In this reading though, I noticed an interesting point. Jesus breathed on the apostles and they received the Holy Spirit. Yet, a week later, when Jesus appeared a second time, their doors were still locked: their fear was still there.
It seems to me that being a believer and being led by the Spirit do not erase the fact that Christian people are, well, still people. The reality of life is that we must face our personal reality, the circumstances of our individual situation. There is a place in life for all our emotions and it is a difficult journey to allow the Holy Spirit to help us manage them in accordance with God's will.
How did the apostles get from that very real fear to the place in our first reading from Acts where all the people seemed content, fully cooperative, and not stressed at all, let alone fearful? How do we get from where we are in today's world to that same place, the place where we rest completely in the Father's hands while still navigating the ups and downs of life? For me, that is the underlying question of all Christians, the question of a life time!
I do not have the answer. I do have an emerging thought, however. I think the answer lies in cementing the connection between the beginning of our salvation (the death and Resurrection of Jesus) with the realization that the end goal (our salvation) has already been won. The struggles we face are real indeed, but perhaps should be tempered by taking more comfort in the glory that lies ahead as we work through them. We can NOT be either complacent or frantic. Recalling the immeasurable love that initiated our salvation more frequently might just produce a softening of whatever anxiety in life we have so that we can continue the journey with a lighter heart and more confident steps. I think I need to look up the words to Blessed Assurance once again and start humming more often!
Easter Blessings,
Dr. Lanie LeBlanc OP
Southern Dominican Laity
******************************************************
******************************************************
Second Sunday of Easter April 8 2018 Divine Mercy Sunday
Acts 4:32-35; Psalm 118; 1st John 5:1-6; Gospel Acclamation John 20:29; John 20:19-31
The end of the fourth chapter of Luke's account of the early Christian Community sets a standard for Christian living we pretty much ignore. Our Communities of Faith don't hold possessions in common nor do we sell assets so "there shall be no poor among you", a quote from the book of Deuteronomy 15:5. These are two separate concepts that Luke tells us were important to the community of Christians following the Resurrection.
The first concept is an understanding of what it means to live in an extended community. Holding possessions in common derives from Greek thinking Luke's time. It carries with it an intense commitment to the common good of the community whether that be a village, a town, or even a city-state. All possessions, all proceeds from work, investment, and inheritance focus on contributing to the common good of the social-economic group. Individual wealth and accumulation were thought to be held for the benefit of the community. In a sense this is a model of successful civil states. Even in a socio-economic culture that derives its growth and progress from personal initiative, investment of capital, and steady improvement of production, that system must retain a focus on the common good if it is to expand and include more and more persons as consumers of what is produced. Self-interest drives this model of human interaction. The evil that can spring from such self-interest is corruption which takes advantage of the needs of others. Historically speaking, corruption in government, in industry, in social relationships is the cause of failure and ultimate destruction of social-economic systems and cultures. What in the secular world prevents corruption and self-interest from destroying nations and cultures? The foundational theory of capitalism is the book written by Adam Smith in 1776 titled The Wealth of Nations. Self-interest is the driving force for continual improvement in production and in the development of new products and services. His earlier work titled The Theory of Moral Sentiments was published in 1759. That work answers an unasked question: "What keeps a culture or socio-economic system from falling apart from the weight of selfishness and greed?" Smith insists that what keeps societies from total corruption and greed is a compassion imprinted in the spirit of all by the Creator that extends compassion to all members of society. This is certainly an oversimplification of The Theory of Moral Sentiments. But it is an encouragement to balance self-interest with the common good of society as a whole. In our contemporary situation, the common-good is more than the good of a town or a nation. The common-good in focus on the entire world for commerce and safety is certainly the common good of all humanity and our environment.
Why should we think about socio-economic theory? To focus on such secular philosophies seems contrary to the efforts of evangelization and the tenets of Christianity. Why are we not instead focusing on the ideal community portrayed in Luke's Acts of the Apostles? We tend to separate our spiritual life from our material life. One day a week we focus on practicing our faith. We come together as a community to celebrate the presence of Jesus The Christ in the Christian assembly. We look to the experience of Jesus Alive walking with us on our road home to Emmaus. We think of Jesus and his preaching, his healing, and even his death and rising. We study our human historical interaction with our Creator, our God and Father. And we break the bread that is Jesus and drink the wine that is his Blood. And then we go home. Do we leave Jesus at the door of church or does he come home with us, home to family, home to the work that supports us, home where we struggle with conflict and evils that tempt us? The image of the Christian community Luke gives us in the first reading is fills every hour and minute of those who believe in Jesus died and risen. Our faith in the Risen Lord permeates Luke's community with such intensity that the work and successes and failures of each member affects every other member. They know each other's achievements and each other's needs. They find in the preaching and healings of Jesus the glue that holds them together. Adam Smith identified that glue as compassion. During our celebration of the Three Great Liturgies of Holy Week didn't we repeat and remember the incomprehensible mercy and love of God for each individual and for society as a whole when we prayed, "God so loved the world that he gave us his only son"?
The second point in the first reading refers to the poor. A person is poor when they lack the resources to grow and develop to their potential. Those resources are most often viewed as financial. However, there are other aspects of poverty that inhibit and prevent inclusion in the life of community. Psychological, educational, spiritual, safety, and self-image are also necessary aspects of human life. Without resources in every area a person cannot be actively included in society and economic structure. In our first reading the early Christians presented assets beyond their needs as resources for those in poverty. Helping those in need works to include the poor in community. Chapter fifteen of the Book of Deuteronomy states the principle this way: "If one of your kinsmen in any community is in need in the land which the Lord, your God, is giving you, you shall not harden your heart nor close your hand to him in his need. Instead you shall open your hand to him and freely lend him enough to meet his need." By sharing what we have in abundance, we lift up the lives of those in need, providing them an avenue to inclusion in our society. The message of God in this Easter Season is that God loves us and shows us his merciful compassion, even to the point of his Son's sharing in our human experience even to the acceptance of a terrible death.
In our second reading from a letter of John the Evangelist and beloved of Jesus, we hear that the testimony of the life, work, and death and resurrection of Jesus is the work of the Spirit of God. John spells it out for us this way: "For the love of God is this, that we keep his commandments. And his commandments are not burdensome, for whoever is begotten by God conquers the world. And the victory that conquers the world is our faith. Who indeed is the victor over the world but the one who believes that Jesus is the Son of God?"
We are continually seduced by the selfishness of the way of the world. The only way we can conquer the narcissistic, self-centered greed and avarice that drives the world is to live by faith in our risen Lord. That faith is faith in Jesus and in his birth as human, in his living as a human, in his work to support himself as a carpenter, in his preaching and healing, and in his passion, death, and resurrection. The focus of Jesus' public life presents the Father God as merciful, compassionate, and loving his creation. His miracles brought into community those whose illness and pain had excluded them. And in his willing acceptance of a horrific death, he demonstrated the depth of God's love and mercy toward us. The witness of his life was affirmed when on the third day Jesus was raised from the tomb.
All this may seem surreal and impossible if we are to raise our families, maintain some security and safety, and develop and increase our inclusion within the civil community. We are a lot like Thomas in the gospel this Sunday. We are filled with doubt about survival if we follow after Jesus. Where was Thomas when Jesus came suddenly and uninvited into the upper room on that very special first day of the week? Was he out looking for a job? Was he attending to business affairs: perhaps he had a meeting with influential members of the community? Maybe he was reconnecting with family after three years of wandering through Galilee and Judah? He certainly didn't believe what the disciples told him about Jesus being alive. He didn't believe Jesus would come to them offering peace after they had turned tail and ran in Jesus' time of need. And as for "forgiving sins," well that power is God's alone and certainly wasn't something that could be delegated except by God.
Remember Thomas' challenge to the disciples: "Unless I see the mark of the nails in his hands
and put my finger into the nail marks and put my hand into his side, I will not believe." He knew Jesus was murdered. He was certain this apparition the disciples claimed was either mass hallucination or the act of an impostor. On the next "first day of the week" Thomas was with the other disciples. Jesus invited Thomas to touch him. Jesus was no ghost: Jesus was no impostor: Jesus was no hallucination!
We have the testimony of the gospels and the whole of salvation history beginning with the writings and experiences of the chosen people in the Hebrew Scriptures. We have the testimony of the Christian writings of gospels, letters of the apostles, and the book of Revelation written by John on Patmos. But not only those ancient texts and experiences! We have also the writings of the Fathers and Mothers of the church over the centuries since that Resurrection Day. We have the lives of saints and those who lived their lives in faith. That would include our ancestors in the faith: our moms and dads, our grandparents, our uncles and aunts and their ancestors. Our prayer this Sunday of Divine Mercy is "I believe: help my unbelief."
We cannot divide our lives into Church and world. Where ever we are, whatever we do, our faith must inform our decisions and our actions. We, like Thomas, are not always tuned into the Mercy and Love of God. At those times we are encouraged to rise up and try again for Jesus comes to us in the darkness and isolation of our upper room and breathes on us: "Peace be with you. Your sins are forgiven you."
"The Lord bless you and keep you! The Lord let his face shine upon you, and be gracious to you! The Lord look upon you kindly and give you peace!"
Carol & Dennis Keller dkeller002@nc.rr.com
******************************************************
******************************************************
FAITH AND DOUBT: 2ND SUNDAY OF EASTER B
When we come together for Mass every Sunday we remember Jesus. Our praying the Eucharist is an act of faith - an act of personal faith and an act of group faith. Praying together also helps us all to believe, hope and love more strongly, and so become a stronger community. So much so that It might be said of us what was said today about the first ever Christian community in our First Reading: "The whole group of believers was united heart and soul…"
The faith we share is above all our faith in Jesus Christ. We believe that he is risen from the dead and is alive - alive in himself and alive in us. and that he is our Teacher, Lord and Leader. But nobody can do our believing for us. This is powerfully illustrated in our gospel story today.
It is Easter Sunday and the disciples are huddled together in a locked room. After what happened to Jesus just two days before, they dare not venture out for fear of their lives. But Jesus himself does not hide away. Suddenly he comes among them. His greeting is peace. Their response is joy. For the story-teller John, Easter Sunday is Pentecost, and the gift of the Spirit is the breath of the Risen Christ. The disciples breathe in the Spirit and the Spirit becomes part of their lives. They will leave the Upper Room changed persons, courageous, energetic and zealous people, in short, persons animated, fired and propelled outwards by the Holy Spirit.
But one of their number is missing. His name is Thomas. He is one of the group of the apostles, but he is also a distinct, independent self, a real individual. He cannot be both loyal to the group and disloyal to his own inner self. That would make his loyalty deceitful and worthless. For Thomas honesty and sincerity are, in fact, more important than loyalty and belonging. So when the others say, "We have seen the Lord," he declares strongly and emphatically that before he is willing to believe that Jesus is really risen and alive, he must see and test the evidence for himself. He won't accept their claim just on their say-so. So it's his honesty that makes him doubt and which has led to him being called ever since "Doubting Thomas".
We learn from the gospel story that Thomas comes to believe in the Risen Jesus in the same way as the other disciples, i.e. when he sees the Lord for himself. But in the way John tells the story Thomas stands for all those who have not yet seen the Lord in the flesh but who are come to believe in him just the same. That's where you and I come into the story. We are among those many generations of believers ever afterwards of whom it may be said: "Happy are those who have not seen and yet believe."
It's understandable that Thomas was so slow to believe. One reason is because he was such a rugged individual, such a real self-starter. The other is because he was not present when Jesus breathed the Holy Spirit into his fellow-disciples. But Jesus has given the Spirit to you and me, first at Baptism, then at Confirmation, and subsequently at every Eucharist we celebrate. The Spirit which Jesus gives is the Spirit of truth. It's the same Spirit who empowers us to say to Jesus with Thomas, the full truth about him, to say to him: "My Lord and my God!"
Our faith is one of the main gifts the Spirit gives us. But it is not a one-off gift that we lock away in a safe like some precious jewel. As a form of life we must let our faith grow and mature. On the other hand, like other forms of life our faith can wither and die from neglect and lack of exercise. We need to pray about our faith, think about our faith, talk about our faith, and express it in works of love. This does not mean that we will never have any doubts. After all even the great Mother Teresa of Calcutta had to struggle with doubts her whole life long.
But if like Thomas we care about what we believe, and persevere in our faith, surely sooner or later our faith will bring us into the presence of the living God!
What a gift, what a wonderful gift is that!
"Brian Gleeson CP" <bgleesoncp@gmail.com>
******************************************************
******************************************************
Year A,B,C: 2nd Sunday of Easter (Divine Mercy).
"As the Father sent me, so am I sending you."
There is an old quote, allegedly by Jack Charlton in 1990, as he sent out his young inexperienced Irish team to play in their first ever World Cup match against England in the Stadio Sant'Elia, Cagliari. He is supposed to have said, "don't worry lads, you don't have to win. All you have to do is to make every single person in Ireland proud of being Irish."
As an old cricket lover, how I wish Steve Smith, David Warner and Cameron Bancroft had remembered that. Because there is something extraordinary about being chosen to represent others – to be the one in whom others put their trust in a time of importance. Sometimes, it is at a crossroads in history, as at Trafalgar when Nelson told his men, "England expects that every man will do his duty." At other times, it is less crucial to great international events, but still important to human beings. David Beckham once said that he never truly understood the job of England captain until he went to visit soldiers in Afghanistan and found that the greatest concern voiced by men who daily faced threats from snipers, bombs, improvised explosive devices and booby traps, was how England's central defence would do against Moldova away.
And, as Messrs Smith, Warner and Bancroft now know, what is to be feared the most is not defeat, but dishonour. There is something to celebrate in a defeat in which, like Monty Panesar in Cardiff, every delivery was faced with courage and determination, but the opposition were just better on the day. There is nothing to celebrate when our actions shame the symbols of the nation's pride – the shirt, the flag, or the baggy green cap.
And so, when at the end of this Mass, we leave this place with our souls filled with the Spirit, our bodies fed with the Bread of life; our minds opened by the Scriptures, we shall walk into the world for the coming week. And we shall not walk alone. We shall walk with what the letter to the Hebrews describes as 'the cloud of witnesses' – all those people who lived before us and did what they could to live Christian lives in the world. And all those people who shall follow our own footsteps of Faith into the future. But they shall only watch, because in this time and place it is us who have been chosen and matched with this hour. It is our time to build the Kingdom. We have the ball.
It is, of course, possible that we will fail – there is no shame if the failure of an honest attempt; it is even possible that the Church will be disgraced by the actions of some of its members. But to that we will want to say, "Not in our time.
Not on our watch.
Not while we are on the pitch."
In this time, we hold the apostleship of Christ; we hold the mission of the Church; we hold the Kingdom. Let us pray that, in this week to come, we may act always as the people of whom the Lord may be proud, women and men of whom our families shall be proud. So for this week we pray that God will give to us His grace.
That all who hear our words may hear the world of god.
That all who feel our touch may feel the touch of Christ.
That all who know us may know within us the presence of God's Holy Spirit.
And in that Spirit, we stand and profess our Faith.
Paul O'Reilly, SJ
<fatbaldnproud@opalityone.net>
******************************************************
******************************************************
Volume 2 is for you. Your thoughts, reflections, and insights on the next Sundays readings can influence the preaching you hear. Send them to preacherexchange@att.net. Deadline is Wednesday Noon. Include your Name, and Email Address.
-- Fr. John